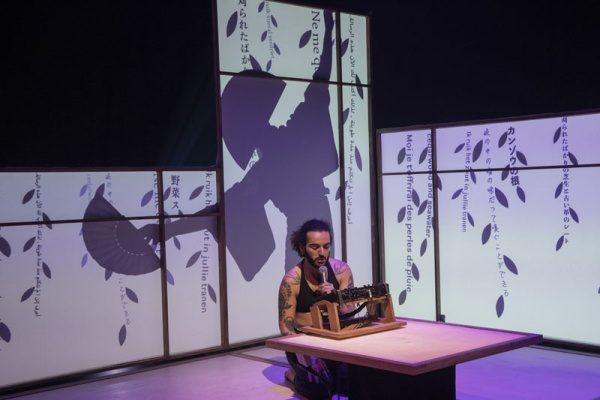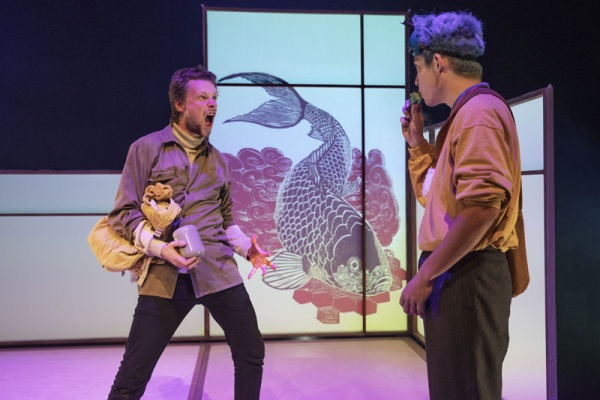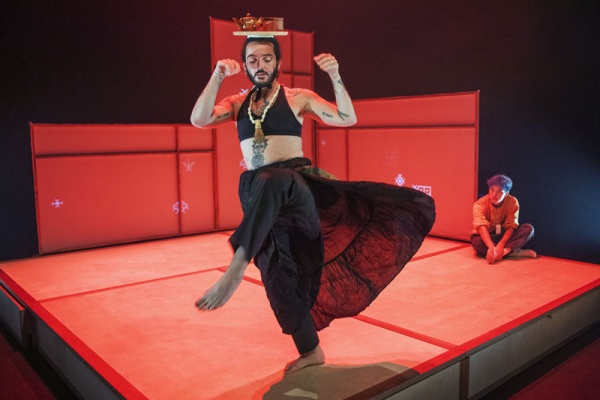 Shakira & Chikara
KOPERGIETERY & company ma
10+
Shakira is an Arabic girl's name.
Shakira means 'grateful'.
Chikara is a Japanese boy's name.
Chikara means '(using) (someone else's) strength'.
Shakira & Chikara is a visual, musical and surrealistic story. 
A story that starts with a dot. 
A dot becomes a line, a sound, more lines, a drawing, a symbol, a word, a sentence, more sentences, a conversation, a friendship, a quarrel, a life.  The life of Shakira & Chikara. 
Two people, each with a different cultural backpack, come together by chance. Something Shakira is grateful for. Together they travel to "the land where the sun goes swimming in the sea", as a tribute to Chikara's deceased grandmother. 
It becomes a journey with surprising customs and strange myths. With a witch with three faces, as an oracle of the past, the present and the future. With pack-men. But also with Ampersand, a mysterious person with equally mysterious stories.  
With small rituals and great sadness, they say goodbye together to their most beloved ones.
Shakira & Chikara is about trying and being able to understand each other, even when we don't understand each other at all. About the beauty of strange customs and traditions. About looking for the strength of the strange other, but also for the nuance in yourself.
In de voorstelling wordt tekst gebruikt.
De taal begrijpen is belangrijk om te volgen.
PRODUCTION: KOPERGIETERY & COMPANY MA (Japan)
DIRECTOR: Johan De Smet, Kenjiro Otani
TEXT: Johan De Smet, Jaouad Alloul, Joji Otani-Hansen, Mats Vandroogenbroeck
PLAY: Jaouad Alloul, Joji Otani-Hansen, Mats Vandroogenbroeck
TYPOGRAPHY & ANIMATION: Jo De Baerdemaeker, Anna Van Riel
SCENOGRAPHY: Johan De Smet, Polien Demeulemeester, Jonas De Wulf, Koen Demeyere
COSTUMES: Polien Demeulemeester, Gielke Smet, Monique Leys
MUSIC: Takuji Aoyagi, Jaouad Alloul
LIGHT: Jeroen Doise
SOUND: Diederik De Cock
TECHNIQUE: Koen Demeyere, Jonas De Wulf, Sebastien Van Huffel
PRODUCTION MANAGER:  Polien Demeulemeester
Kenjiro Otani works as a theater director mainly in Tokyo and is the artistic director of company ma. Determined to work for theater, he went on to study abroad, including Theater Arts at San Francisco State University. Today he creates theater work for both children and adults; in Japan as well as in the United States, Germany, Brazil... His work is characterized as strongly physical and musical.
Johan De Smet is artistic director of KOPERGIETERY and theater maker. Over the past 20 years, he has drawn various (musical) theater performances such as The history of the world (together with Titus De Voogdt), Broken Dreams (coprod. Mambocito Mio) and Mémé the Godmother (together with Jan Sobrie). Johan likes to blend various styles together on stage.
Jaouad Alloul is a singer, dancer, theater maker, activist and multidisciplinary performer. With Be Human vzw he sets up creative projects on gender and identity. He created two poignant monologues (De Meisje and Mermaid) with which he breaks taboos around gender, religion, culture and sexuality.
Joji Otani-Hansen was born in Tokyo, but grew up just about all over the world: Japan, the US, Bali and Europe. He recently graduated from the London international theater school Rose Bruford College and works from London as a multidisciplinary artist, mainly for theater and film.
Mats Vandroogenbroeck graduated in 2019 as an actor / theater maker at KASK School of Arts (Ghent). He received a Theater Writing Award at theater festival TAZ for his graduation performance.
Jo De Baerdemaeker is an internationally renowned font designer and developer. He develops new digital writing systems worldwide and creates digital fonts of writings that are threatened, especially for Tibetan, Lantsa, Mongol and Javanese. He works with large companies such as Adobe, Apple, Google and Microsoft.