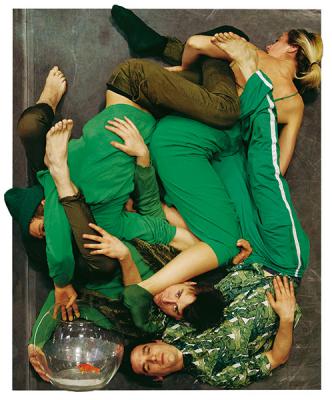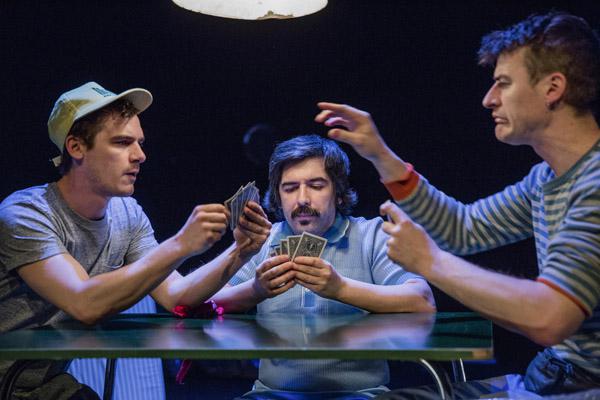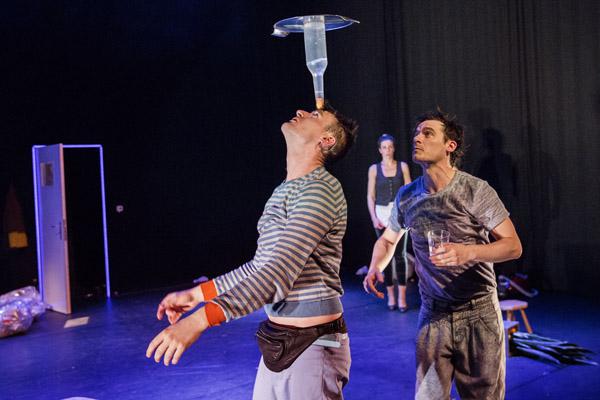 The Daltons
KOPERGIETERY en Cie Pol & Freddy
6+
KOPERGIETERY and Cie Pol & Freddy have pooled forces to make a witty  theatrical circus western for the entire family.
An almost wordless show full of slapstick, juggling and object manipulation.
The Daltons.  
Eternal bunglers, botchers and shirkers.
Always on the run.
Nobody has any idea where from.
Nobody has any idea where to.
Nobody has any idea why.
Having forced their way into somebody else's massive house, they find themselves face to face with the tiny side to and inside themselves.
Rest and routine seem to finally have entered their lives.
Until the owner catches them redhanded...
Passion, popcorn and moustachioed men fly through the air. 
The goldfish suffers a depression.
And the only available bed suddenly seems awfully small...
A funny show about the beauty of failure, about friends, about embracing the unknown.
PRODUCTION: KOPERGIETERY and Cie Pol & Freddy
CREATION: Gonzalo Alarcón, Sander De Cuyper, Jordaan De Cuyper, Johan De Smet,  Laurence Roothooft
DIRECTOR: Johan De Smet
PLAY: Gonzalo Alarcón, Sander De Cuyper, Jordaan De Cuyper, Laurence Roothooft | MUSIC: Geoffrey Burton | LIGHT DESIGN: Jeroen Doise | SOUND: Korneel Moreaux | TECHNIQUE: Koen Demeyere, Bardia Mohammad, (tour) Helmi Demeulemeester, (tour) Tijs Michiels | IN COLLABORATION WITH Het Circuscentrum | WITH THE SUPPORT OF the Flemish Government, the city of Ghent, Province of East Flanders
Cie Pol & Freddy consists, amongst others, of brothers Sander and Jordaan De Cuyper. Both are members of world-famous juggling Compagnie EA EO, which won the innovation trophy at Cirque de Demain 2012 (Paris). Their highly successful productions m2 and All The Fun are being performed all over Europe.  
Gonzalo Alarcón has been working for years in the international circus world. He works, among others, for the Belgian acclaimed circus company Hopla Circus and Sistema-T. He focuses on the art of Clowning and Burlesque.
Actress Laurence Roothooft plays for various theater companies. She starred in the KOPERGIETERY production Gran – the Godmother.
Johan De Smet is a theater maker and artistic director of KOPERGIETERY. Together with the cast he created, among others, The Legend of Woesterdam (coproduction studio Orka), Broken Dreams (coproduction Mambocito Mio) and The history of the world based on banalities (along with Titus De Voogdt). His performances are characterized by intensive use of live music, video and/or dance.