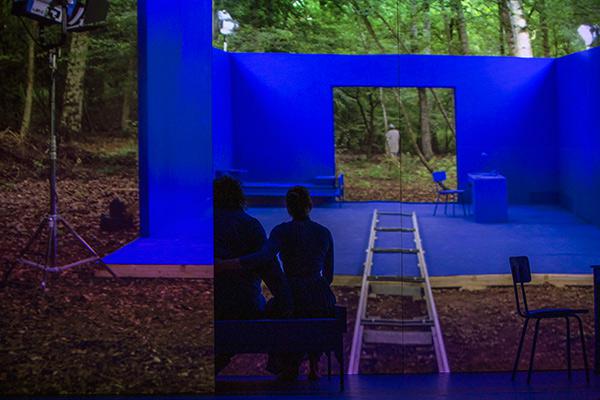 Homo Deus Frankenstein
KOPERGIETERY, KGbe, I SOLISTI & makemake produktionen
8+
Homo Deus Frankenstein is a musical-cinematic experience for children and families,
around the "manufacturability" of our world / life.
Our society is changing at an incredible speed.
Everything suddenly seems to be automated and digitized.
Sometimes even our emotions.
A violent but also exciting world to be young now!
Starting from the themes in the work Frankenstein (Mary Shelly) and Faust (Goethe), a contemporary story is created in which humans and robots try to become a better version of themselves. The war of robots, a GPS route to our heart, Frankenstein, on the tea site at a cyborg ....
Homo Deus Frankenstein is a performance that reads and listens as one exciting big musical cartoon, around the many substantive questions that we ask ourselves today:
What is feasible in a young life?
Why do we so like to create 'better versions' of ourselves on social media?
Are we who we are or how we show ourselves?
 
KOPERGIETERY, MakeMake Produktionen (Vienna), I SOLISTI, KLARAFESTIVAL & the Shäxpir Festival (Linz) have shaped this artistically in a musical and cinematic experience for children and families. Five top musicians and performers Marjan De Schutter and Martina Rössler enter into a dialogue with composer Frederik Neyrinck and director Johan De Smet & Sara Ostertag with a unique film by Kenneth Michiels.
Homo Deus Frankenstein premiered in Belgium during the KLARAFESTIVAL 2019. In Austria it premiered at the Schäxpir Festival in Linz. The production received three nominations for the STELLA Awards 2019, an Austrian Theater Prize for Young Audience. Homo Deus Frankenstein was nominated for Best Production for Young Audience, Best Acting Performance (Martina Rösler) and Best Design and Video (Jens Burez, Kenneth Michiels) and was able to cash in on this last nomination.
The STELLA-Darstellender Kunst Preis für junges Publikum has been awarded since 2007 to remarkable theater productions for a young audience in Austria and is an initiative of ASSITEJ Austria. ASSITEJ is a worldwide network of performing arts for children and young people, founded in 1965. KOPERGIETERY is a member of ASSITEJ Belgium.
technologie
muzikaal
filmisch
In de voorstelling wordt (een beetje) tekst gebruikt.
De tekst begrijpen is nuttig maar niet noodzakelijk om te volgen.
PRODUCTION: KOPERGIETERY, KGbe, I SOLISTI & makemake produktionen
CONCEPT & CREATION: Johan De Smet & Sara Ostertag
COMPOSER: Frederik Neyrinck
ENSEMBLE: I SOLISTI met Tomonori Takeda (klarinet), Francis Pollet (fagot en muzikale leiding), Simon Van Hoecke (trompet), Bram Fournier/Jan Smets (trombone), Carlo Willems (percussie)
PLAY: Marjan De Schutter, Martina Rösler
CINEAST: Kenneth Michiels
ART DIRECTOR : Jens Burez
COSTUMES: Leentje Kerremans, Valerie Le Roy
LIGHT DESIGN: Jeroen Doise
SOUND: Korneel Moreaux
TECHNIQUE: Jan Bekaert, Jeroen Doise, Korneel Moreaux
PRODUCTION MANAGERS: Karel Clemminck, Gielke Smet
IN COPRODUCTION WITH: KLARAFESTIVAL & SCHÄXPIR FESTIVAL
IN  COLLABORATION WITH BRONKS
With the support of the Tax Shelter measure of the Belgian Federal Government, the City of Vienna, The Austrian Cultural Forum Brussels and Embassy of Belgium, Delegation of Flanders.
PRESS QUOTES
"Two actresses - Marjan de Schutter and Martina Rösler - are nothing short of amazing in their acting performance and dance and depict man and robot between which the difference is blurred." VOLKSBLATT, E. Hammer
"The two actresses skillfully display a wide range of feelings in their play towards or with robots: from relief to help to fear that the robot will rise above people. They are accompanied and supplemented live on stage, sometimes also thwarted by four excellent musicians on bassoon, clarinet, trumpet and percussion. "KURIER, H. Wagner, June 2019.