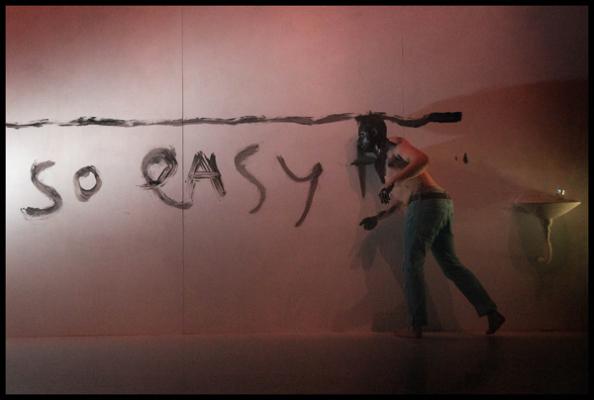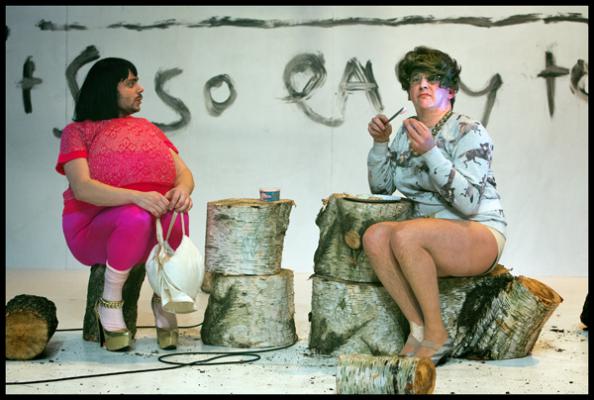 Football on Stilettos
15+
Tour dates
Geen voorstellingen gevonden
Jef & Randi. Randi & Jef. 
Two young men with a mind of their own,
making a stand: for wigs,
for the oddball, for too small and too big.
For dogs with an opinion,
for bearded men and moustached women.
A surreal show,
on the thin line between ambiguity and uncertainty,
about the insufferableness of prejudice, 
about the empowering force of being allowed to be who you want, 
about learning to look at things all over again, 
things you thought you knew.
WINNER VSCD MIME AWARD 2015
"An unforgettable and impressive plea for anyone who dares to be himself." (Jury VSCD Mime Award, a prestigious Dutch theatre award.)
PRODUCTION KOPERGIETERY
CONCEPT, CREATION, PLAY & DANCE: Randi De Vlieghe & Jef Van gestel 
COACHING: Natascha Pire
COSTUMES: Maartje van Bourgognie
LIGHT DESIGN: Jeroen Doise
SOUND: Korneel Moreaux
TECHNIQUE: Jeroen Doise, Tijs Michiels, Korneel Moreaux
THANKS TO Lukas Smolders
++ABOUT THE MAKERS++
As a choreographer/dancer/theatre maker Randi De Vlieghe is mainly active in professional youth theatre. He works for the likes of KOPERGIETERY, fABULEUS, BRONKS and Studio Orka. Randi masters the cross-over between dance, theatre and music theatre like no other. He previously createdHet verdragen van Versailles (Versailles! Versailles!) and Woudlingen/Waldlinge for KOPERGIETERY.
Jef Van Gestel was awarded the Ton Lutz Prize for most promising director for his graduation projectTuttefrut. Since then he has worked for various theatre companies, and in 2003 he pooled forces with a few mates to found 'Tuning People', which creates auditive/visual theatre.
PRESS QUOTE
***** Football on stilettos executes a 'one-two' with well-worn cliches. Flemish theatre makers Jef Van Gestel and Randi De Vlieghe put themselves in the shoes of various extreme characters, wrong-footing the public in the process. Both cutting-edge and highly poetic, the production tackles deep-rooted prejudices about identity, homosexulaity, male and female. (...)
Subtleness and hilarity go hand in hand in Football in stilettos and despite the hammed up acting, a lot is said with minimal means, like a changed glance or eyes looking the other way to wrong-foot the public. What the show actually conveys is that we judge others in the blink of an eye. Van Gestel and De Vlieghe take risks. Football and stilettos is guaranteed to get the 15+ target group talking. 
Football on stilettos is well-worth seeing. It's a must-see, in fact. (Theaterkrant.nl)